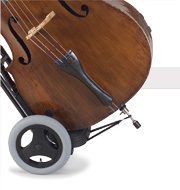 Guarantee
Our 1 month, full money back guarantee reflects our firm belief that you will be fully satisfied by purchasing a Double Trolley.

Should the Double Trolley not meet your expectations in any way, you can simply return it within one month and get your money back!

Furthermore, Double Design provides a 1-year warrantee on all parts, in case of defects in materials and workmanship.

Read the full Conditions of delivery.
Service



During the course of time a tire may wear down, an elastic strap disappear or a rubber padded part become damaged - you can always contact Double Design and get a new part sent.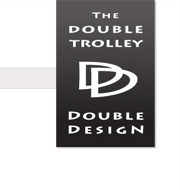 My Double Trolley arrived three days after I placed my order - great service!

I immediately took my bass for a walk through the cobblestone streets around my home, and the performance was very impressive - easy one-handed pushing and an amazingly smooth ride for the bass. Used as a stool, it's simply perfect.

David Moss
Germany


More reviews..