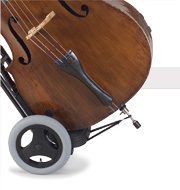 Stool to trolley

To transform the Double Trolley from a stool to a trolley, the seat is first lifted up from the stool piece and put into the wheel piece.
The two front legs of the stool piece are placed into the tubes of the wheel piece. The rear leg of the stool piece is folded into and locked to the wheel axle of the wheel piece. The trolley is now assembled and the height of the upper part is adjusted to accomodate the size of the bass.
| | | |
| --- | --- | --- |
| | | |
| Click on the pictures to get a close view. | | |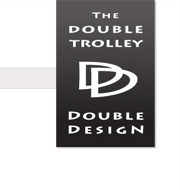 I got the Double Trolley and it works very well! It is built more firmly and so easier to move the instrument and to sit on than I thought. Among all, I'm surprised at that it can make sharp turns so I can move the instrument in narrow space like a corridor in my home. All of my colleagues admired it, and some of them said they would like to buy it.

Today, when I took this picture, there was a slight strong earthquake, but my instrument which was standing with the trolley didn't fall down!

Yosuke Yamazoe
Japan


More reviews..