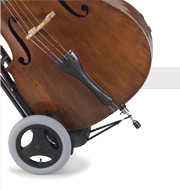 Press material - Brief introduction
Danish double bass player Marc Grue has invented a trolley to roll the double bass on that can be transformed to a high quality adjustable stool and vice versa. Called the Double Trolley, it's the result of five years of experimentation. It is now set into production in Denmark and sold to double bass players worldwide.

The Double Trolley consists of three parts: a seat; a wheel-piece; and a stool-piece. When the three are assembled it becomes a trolley for transporting your bass. When the seat and stool-piece are combined, it becomes a fully adjustable high quality stool bolstered with genuine leather. The transformation takes less than 10 seconds!

By rolling the double bass with a Double Trolley you will always have your own stool with you without having to carry it beside the bass. You can roll it with one hand, leaving the other hand free to carry your travelling bag (or holding your girlfriends hand).

The double bass is carefully resting on the thick bolstered seat while you roll it with the Double Trolley. The big airpumped wheels easily absorbs the bumps on street walks - furthermore protecting the bass.

On www.doubletrolley.com you will find lots of pictures of the Double Trolley, comments and reviews by bass players, ordering details and more.









Download pictures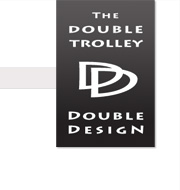 I've been using your stool for almost a year, and I think it's a great contribution to the world of equipment. I love the fact that I can transport the bass without the bass bag on.

It's indeed very comfortable as well.

Andrew Miller
Canada


More reviews..