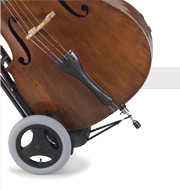 The idea

Marc Grue, inventor of the Double Trolley, explains how the project started:

"Jazz bassist Jesper Carlsen had converted a laundry basket trolley into a transportation device for his double bass (see left). I borrowed it from him and rolled my bass with it to and from orchestra rehearsals and concerts.

At that time I was looking for a high, adjustable stool to sit on, but I couldn't really find one high enough. One day I was looking at the laundry trolley and thought: It should be possible to put a seat on the top!"

Marc Grue with his double bass on the laundry trolley in 1992.
Marc Grue continues:

"I dropped another rebuild of the laundry trolley and went on with the possibilities of making a collapsible combined stool and trolley.

After a while I imagined the horrifying scenario of how the two legs (or rather wheels!) could roll out from under me during a concert!!

I therefore explored the idea of taking off the wheels instead. This was the birth of the Double Trolley and I started to work on the first prototype."

See how the prototypes of the Double Trolley were modified and improved over a period of 5 years!
One of many sketches for a collapsible combined trolley/stool (the seat is touching the shoulder of the bass).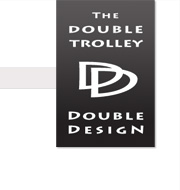 I recently purchase one of your trolleys, and I must say congratulations. It is well designed and built, and very comfortable. I have used it for a number of rehearsals and concerts, and have never failed to get envious comments from my section mates.

Thanks again for a very intelligently designed product.

Raymond Irving
United States, MD


More reviews..