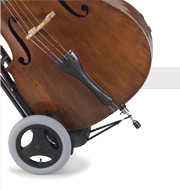 The 6 prototypes
In 1994 the first Double Trolley prototype was made.

For the next 5 years, the Double Trolley was tested by him and many other bass players to find out how to improve every detail of the concept.

In 1999 the last prototype was finished. The Double Trolley had undergone several changes and was now ready to go into production. Have a look at the history of the prototypes:
Prototype no. 1

Made of square steel tubes, this first construction is the basic concept of the Double Trolley as it is today.

The wheel part had no strap attached to it nor locking mechanism on the wheel axle to hold the rear leg of the stool piece.

Top
Prototype no. 2

All dimensions where adjusted on this prototype, and it was made of round tubes. The bigger wheels were selected so that the trolley could roll more easily on the street and up/down stairs.

Main improvements:

Bigger wheels
Round tubes
Hook strap for the endpin
Improved stability of stool


Top

Prototype no. 3

The height is now adjusted by a click mechanism to avoid the uncertainty of the tightening screws on the prototype no. 2.

Main improvements:

Click mechanism for locking the height and angle of the stool
Thick seat


Top

Prototype no. 4

To give better support for the side of the bass, the seat was turned around in the trolley configuration.

Main improvements:

Click mechanism hidden inside the tube
The seat turned around to better support the bass

Top

Prototype no. 5

The first model in aluminium reduced the overall weight of the Double Trolley.

Main improvements:


Top

Prototype no. 6

The first prototype built by professional craftsmen. Only small adjustments were made to this prototype before the Double Trolley was put into production.

Main improvements:

Computer designed
Solid locking mechanisms
Seat lock
Special fittings between all moving parts


Top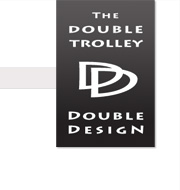 We have received the Double Trolley here in Canada and I'm writing to thank you for your wonderful product! So far it is working perfectly - I tested it out this past weekend on my way to orchestra - you see, I am a member of the Toronto Symphony Youth Orchestra, but I live far away from Toronto and need to take the train and the subway to get to and travel about Toronto......thank you for making it that much easier!

Jonathan Cegys
Canada


More reviews..