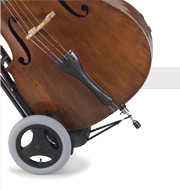 Inventor of the Double Trolley, Marc Grue, explains:

"In the beginning, I had to learn how to weld steel tubes to put the prototypes together. Using my first hand knowledge as a bass player, combined with my newly learnt engineering skills, I was able to assess which details needed improvement - for example one screw would hit a narrow door frame, one edge was too sharp when you lifted the bass into the bus, and a lock mechanism needed to be redesigned.

The Double Trolley is the culmination of all of these experiences and improvements."
Working on the 4th prototype
The final prototype was drawn from scratch on a computer incorporating the lessons learnt from all of the previous prototypes.

Engineer Henning Forbech from Techvision helped to make proportions and technical details of the whole construction before it went into production.
Marc Grue with engineer Henning Forbech making computer drawings of every part of the Double Trolley for the production process.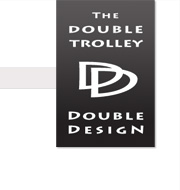 I recently purchase one of your trolleys, and I must say congratulations. It is well designed and built, and very comfortable. I have used it for a number of rehearsals and concerts, and have never failed to get envious comments from my section mates.

Thanks again for a very intelligently designed product.

Raymond Irving
United States, MD


More reviews..