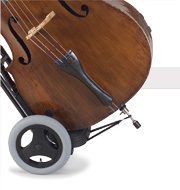 Dimensions
The outer dimensions of the Double Trolley show how compact it is. Transporting it in a car takes minimal space.

The seat measures 35 cm / 13.8" by 22 cm / 8.7" and has a 7 cm / 2.8" thick layer of foam.

The stool height goes from 61.5 cm / 24.2" to 94 cm / 37" in 2.5 cm / 1" increments (14 steps).

When the handle of the trolley is pulled up from the stool piece to the maximum height, the total height of the trolley is 102 cm / 40.2". The maximum distance between the two padded sections that support the shoulder and hip of the bass is 57.5 cm / 22.6".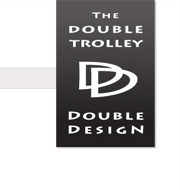 I got the Double Trolley and it works very well! It is built more firmly and so easier to move the instrument and to sit on than I thought. Among all, I'm surprised at that it can make sharp turns so I can move the instrument in narrow space like a corridor in my home. All of my colleagues admired it, and some of them said they would like to buy it.

Today, when I took this picture, there was a slight strong earthquake, but my instrument which was standing with the trolley didn't fall down!

Yosuke Yamazoe
Japan


More reviews..