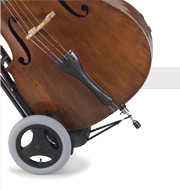 Owners comments

Since getting my Double Trolley I can get around with my bass much more independently. All my friends think it's really cool and the seat is really comfy too.

Alistair Westwood
National Children's Orchestra of Great Britain (Under 11s)

Hi Marc, I love my Double Trolley. It makes my life simple. It cuts down on the items I need. All-in-one was a great Ideal. Just about everywhere I go people just love that it has seat and turns into dolley & it's portable. Love It! Love It!! Love It!!!

Kimberly Johnson
United States, Maryland

Here, I'm at Östersund Central Station (in Sweden). I travelled around and visited musician friends and brought my bass along. In total I travelled almost 3000 kilometers with train and bus, something that wouldn't have been possible without my Double Trolley!

Otherwise I use my Double Trolley daily at the university and I often think about how much it makes my life easier.

All the best,
Daniel Dluzewski
Örebro, Sweden

Hi there,
I'd like you to know how much easier my life has become thanks to the double trolley! I got one a few years ago before a music tour to Italy and I can't tell you how much it helped. We had to leave all our cases in the coach before each concert meaning that there was sometimes quite a lot of travelling to do before we got to our concert venue. Whilst the other bassists in my section struggled carrying an uncased bass plus a bow and stool, I raced away with my double trolley! Then in the concerts, whilst the others creaked and squeaked away and got uncomfortable after an hour, I was silent and wonderfully comfortable, not to mention packed up and back on the coach way before the rest of them!

Since then, it has helped my on countless occasions, especially travelling through London on the tubes! It's so easy to use and has even improved my posture. Now half of my section at University has a double trolley as I just can't help but extol its virtues! Thank you so much for creating such an amazing bit of kit!

Many thanks,
Patrick Fysh
Kent, UK.

I recently purchase one of your trolleys, and I must say congratulations. It is well designed and built, and very comfortable. I have used it for a number of rehearsals and concerts, and have never failed to get envious comments from my section mates.

My wife, also a bassist, has much the same reaction from her section members. Her only comment is: what about a fold-down rest for the left foot? Would that be at all feasible? [See FAQ]

Thanks again for a very intelligently designed product.

Raymond Irving
United States, Maryland
My Double Trolley has arrived. It will make getting my bass around SO MUCH easier. Carrying my 5/4 5-string Pöllmann Emperor (a huge bass!) from car to rehearsal hall sometimes exhausts me even before the rehearsal begins. I'm 62 now and can imagine what a challenge transportation could have become if it were not for my Double Trolley.

I am amazed at the marvelous engineering that has gone into the design and construction of the Double Trolley. I can't wait to use it on the job. You are to be commended for your contribution to the brotherhood of double bassists. Bless you!

Buckner Malcolm
United States, North Carolina
My Double Trolley arrived three days after I placed my order - great service!

I immediately took my bass for a walk through the cobblestone streets around my home, and the performance was very impressive - easy one-handed pushing and an amazingly smooth ride for the bass. Used as a stool, it's simply perfect.

Congratulations on this most ingenious and well thought out product, I wish you all the success you deserve.

Best regards,
David Moss
Germany
Well, I finally bit the bullet and spent the money to acquire a Double Trolley from Marc Grue in Denmark.

I don't have any connection to him financially or otherwise but I wanted to let everyone know what a pleasure it was to do business with Marc, and to tell everyone what a fantastic piece of gear this is. At 530 Euros [the old price], it's not cheap but the quality is so good I fully intend to get a lifetime of use from this very well engineered solution to transporting a bass and I think it represents very good value. It is easy assemble, attach the bass, and then remove the bass and convert the trolley to a stool when you arrive at the gig. Converting back from stool to trolley is also a piece of cake. The stool is attractive and discreet looking, incredibly well engineered and comfortable in a European way (think BMW vs. Cadillac). It takes up little room and will fit on the smallest of jazz band stands or in a small pit.

I can now make it to jazz gigs in one trip pushing my bass/stool combination in front of me and pulling a small amp on a luggage rack behind me. It has taken a lot of the wear and tear out of transporting my instrument and I find I'm arriving at the job not in a full sweat as I was before.

I encourage anyone who can come up with the money to give this serious consideration. It is a fantastic piece of equipment. Now, does anyone want to buy a drum throne? ;->)

Erik Hansen
United States, California
Got it...and...WOW!

Every now and then you buy something that just makes you want to sit back and clap! This is definitely one of those things.

I've got orchestra rehearsal this evening. I won't have time to go home between it and work, so I brought my bass with me to the office. (I don't leave it out in the car because it's cold outside -- and I like to take care of my "Babe.") The guys were all impressed. It's a thing of beauty, with its form and function in perfect harmony.

I love it!
Thanks, Marc!

Ricardo Birmele
United States, Washington
"I've been using your stool for almost a year, and I think it's a great contribution to the world of equipment. I love the fact that I can transport the bass without the bass bag on.

It's indeed very comfortable as well."

Andrew Miller
Canada
"I got the Double Trolley and it works very well! It is built more firmly and so easier to move the instrument and to sit on than I thought. Among all, I'm surprised at that it can make sharp turns so I can move the instrument in narrow space like a corridor in my home. All of my colleagues admired it, and some of them said they would like to buy it.

Today, when I took this picture, there was a slight strong earthquake, but my instrument which was standing with the trolley didn't fall down!"

Yosuke Yamazoe
Japan, Kobe
"Dear Marc,
Your product is so obvious that you immediately become good friends with it, and after just one ride with it, it has already become indispensable. As a travelling/driving freelancer I will never be without a Double Trolley."

Edvard Nyholm Debess
Faroe Islands
"We have received the Double Trolley here in Canada and I'm writing to thank you for your wonderful product! So far it is working perfectly - I tested it out this past weekend on my way to orchestra - you see, I am a member of the Toronto Symphony Youth Orchestra, but I live far away from Toronto and need to take the train and the subway to get to and travel about Toronto......thank you for making it that much easier!"

Jonathan Cegys
Canada
"Have been using the trolley for over a year now and am very happy with it. Lots of admiring looks and interested questions when I show up for a rehearsal or concert. Even works well on the subway system of Prague!"
Matthias Lempp, Winterthur, Switzerland
"Your bass trolley is great for those country walks - and a delight in an urban situation too. Out the apartment door - down the elevator onto the street and sail on to the gig. Its perfect.

Kent Carter
France
"The Double Trolley is absolutely superb, I find travelling with the Bass so much easier now, and the stool is the most comfortable I have sat on. The Double Trolley has not only gained many admiring glances from my Bass colleagues, but also from my Harpist friends, (perhaps the design can be modified for the Harp - food for thought!)."

Follow up:
"The double trolley is as good as ever! I find freelance playing so much easier now that I can just turn up with my bass (with trolley attached), and bag - no more back breaking journeys with bass on one shoulder, bag on the other and stool in my hand. It really has improved my musical life!"

Michael Francis
England, Windsor
"A Big thank you for your unique "double trolley". I have used it a lot and I'm very satisfied. I also show it to all people I meet - both bass players and normal persons... A professor at the Royal Academy of Music in London wanted to see if it was really possible to transform it from trolley to stool in under 10 seconds and I actually managed to execute the operation in 6.5 s!!!"

Follow up:
"Aug 2003 After thousands of practise hours (with great support from the stool) and even more thousands of kilometers traveled (without the pre-Double Trolley amount of back pain and stress...) I would like to thank you once more for your excellent invention! Some people might initially be put off by the price tag, but when (if ever) my DT gets worn out, I will immediately order a new one!"

Jesper Ulfenstedt
Germany, Münchner Philharmoniker
Peter Neville, England, writes this in-depth comment:
"I have used the double trolley which you sold me, for two nights in the orchestra pit.
I was impressed by the high quality of not only the design but also of the finish: I feared that (for example) when I loaded the bass-and-trolley into my car, the trolley might have sharp edges which damaged the car, or that the trolley might be scraped and spoiled. These fears were unnecessary.
My height is 161cm. I therefore expected to require a long time to accustom myself to the different sitting position. It took one-and-a-half evenings. But I was then as comfortable as with my previous stool (which was good but not perfect). I found that I needed a lower stool-height setting than I expected, because I was sitting more completely on the stool (not, as on my previous stool, half on and half off), and I also found that the two front feet of the stool should be not exactly "east-west" but about 30 degrees anti-clockwise.
Normally I sat with my left foot as shown on one of your photographs, but I eased the tiredness by occasionally pushing the heel of my left foot further backwards.
I appreciate the seat-angle adjustability (by altering the back leg of the stool) but I did not need this.
I also appreciate the three legs - stool does not rock even if half on / half off a carpet.
This orchestra pit was very unusual: the audience entered the auditorium immediately behind me, on the same level, and could see everything in the pit. Therefore, the very smart appearance of the stool was an unexpected advantage."

Follow-up:
"The trolley which you sold me continues to attract admiring comments from all bassists, and even other musicians, who watch in amazement as I wheel in my bass, demount it and then create my stool in about five seconds."
- Sorry I'm late, but I had a head wind


[original text]



-That's no excuse, haven't you heard about the Double Trolley by Marc Grue.


[Wilson]



Received from mr. J. Wilson,
maker of the famous Wilson pick-ups for double basses.


(Drawing by Quist)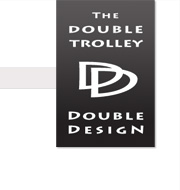 Dear Marc,
Your product is so obvious that you immediately become good friends with it, and after just one ride with it, it has already become indispensable. As a travelling/driving freelancer I will never be without a Double Trolley.

Edvard Nyholm Debess
Faroe Islands


More reviews..