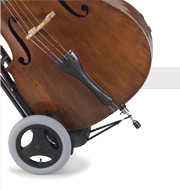 Links for double bass players...

Krattenmacher - Master violin maker Stefan Johann Krattenmacher presenting his high quality stringed instruments with comments from several high-profile bass players. Including event calender and more.
Soundpost - A fine shop with more than 25 years of history in Guildford (Surrey, UK), owned by Brian Cohen. Sale, repair, and restoration of ancient and modern stringed instruments, including double basses and accesories.
Georg Pianzola - Instrument maker in Bern, Switzerland. Specialising in double basses.
Gollihur - Great list of double bass links!
Jazz Stage - Scandinavian Jazz magazine
Hammond Ashley Bass Violins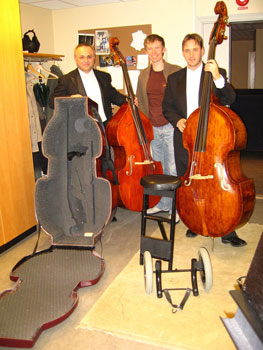 Mobilbass - The double bass you can take apart. A brilliant invention for all travelling bass players around the world! The Gothenburg Symphony Orchestra Bass section attended a very convincing demonstration by Laszlo Magyar who invented and developed this wonderful idea into reality.

In the picture (from left): Zdenek Machacek, Marc Grue and Laszlo Magyar in the Gothenburg concert house, where he demonstrated the Mobilbass for us.

Probasse - Dutch double bass site
Contrabbasso Italiano Bass Forum - Italian double bass forum, created by Professor Vito D. Liuzzi
Christian Glahn - presenting the carbon fibre bass! (in Danish/English)
The Contrabass Shoppe - A truly unrivalled selection of fine Italian, English, French and German instruments.
Rabbath Case - have a look at the light weight bass trunk by Olivier Rabbath.
www.contrabbassi.it - Violin maker Sergio Scaramelli from Ferrara in Italy
Martyn Bailey Luthier, Essex, England - A professionally trained restorer of orchestral string instruments with more than 37 years experience. Repairs, restorations, new instruments and accessories.
Wilson Pickups, Manufacturer of the world famous pick-ups with individual per-string volume adjustment.



Exchange links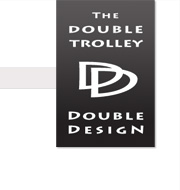 Whilst the other bassists in my section struggled carrying an uncased bass plus a bow and stool, I raced away with my double trolley! Then in the concerts, whilst the others creaked and squeaked away and got uncomfortable after an hour, I was silent and wonderfully comfortable, not to mention packed up and back on the coach way before the rest of them!

Patrick Fysh
United Kingdom, Kent


More reviews..