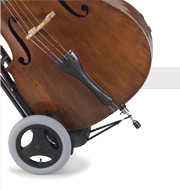 Weight
The entire frame of the Double Trolley is constructed using aluminium, which is not only light, but also strong.

At only 3.6 kg / 7.9 lbs., the Double Trolley stool weighs considerably less than a conventional drum stool.

The wheel piece weighs 3.0 kg / 6.6 lbs. whilst each wheel weighs 1 kg / 2.2 lbs.

In total the Double Trolley weighs 6.6 kg / 14.5 lbs.

1 kg = 2.2 lbs
1 lb = 0,45 kg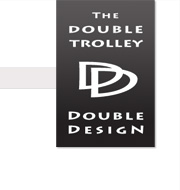 Whilst the other bassists in my section struggled carrying an uncased bass plus a bow and stool, I raced away with my double trolley! Then in the concerts, whilst the others creaked and squeaked away and got uncomfortable after an hour, I was silent and wonderfully comfortable, not to mention packed up and back on the coach way before the rest of them!

Patrick Fysh
United Kingdom, Kent


More reviews..