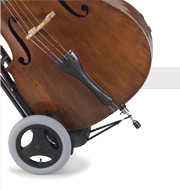 Dimensions
The outer dimensions of the Double Trolley show how compact it is. Transporting it in a car takes minimal space.

The seat measures 35 cm / 13.8" by 22 cm / 8.7" and has a 7 cm / 2.8" thick layer of foam.

The stool height goes from 61.5 cm / 24.2" to 94 cm / 37" in 2.5 cm / 1" increments (14 steps).

When the handle of the trolley is pulled up from the stool piece to the maximum height, the total height of the trolley is 102 cm / 40.2". The maximum distance between the two padded sections that support the shoulder and hip of the bass is 57.5 cm / 22.6".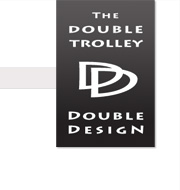 Hi Marc, I love my Double Trolley. It makes my life simple. Just about everywhere I go people just love that it has seat and turns into dolley & it's portable.
Love It! Love It!! Love It!!!

Kimberly Johnson
United States, Maryland


More reviews..