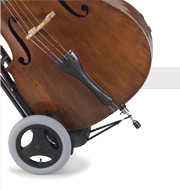 Thick high quality genuine leather
Soft layer of foam to
give added comfort
7 cm / 2'8" thick
layer of firm and
supportive foam
padding that enables
extended periods
of use without
the discomfort of
conventional soft
bass stools



Strong reinforced
nuts holding the
mounting bracket
screw firmly to
the wood base.


| | |
| --- | --- |
| | Strong wood base to carry the weight |
Seat lock


A snap-in latch attached to the mounting bracket catches a groove in the handle of the stool piece when the seat is attached.

This mechanism ensures that you can lift the stool by the seat without the stool piece falling off.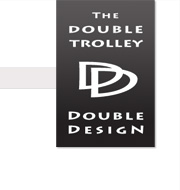 I got the Double Trolley and it works very well! It is built more firmly and so easier to move the instrument and to sit on than I thought. Among all, I'm surprised at that it can make sharp turns so I can move the instrument in narrow space like a corridor in my home. All of my colleagues admired it, and some of them said they would like to buy it.

Today, when I took this picture, there was a slight strong earthquake, but my instrument which was standing with the trolley didn't fall down!

Yosuke Yamazoe
Japan


More reviews..