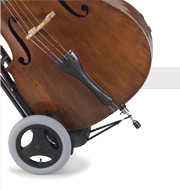 Delivery



Our distribution partner picks out your Double Trolley from their warehouse and immediately sends it to your address.

The Double Trolley is sent in a strong specially made double-sided box to protect the parts during transport.

An invoice for your account is printed and sent along with the box so that you have documentation of the purchase.


| | | |
| --- | --- | --- |
| | | |
| | | |
| | | |
| | A unique package number and bar code is assigned to the box upon shipping. In this way it can be traced anywhere in the world. | |
What you get...



When you receive your Double Trolley you get the following items:

Stool Piece
Seat
Wheel Piece
2 Wheels
Pump
Parts for assembling
2 elastic straps
Manual
Invoice
To save space in the box, the wheels and Wheel Piece are disassembled. The supplied hex key (right) is used to fasten the screws into the ends of the wheel axle after the wheels have been attached.

The hook strap is preset to the size of a standard bass. The fork key is used to adjust the length of the hook strap on the wheel piece in case you have a very large 5-stringed or a very small bass.

Using detailed pictures and easy to follow instructions, the manual shows how the Double Trolley is quickly assembled and operated.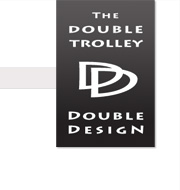 I've been using your stool for almost a year, and I think it's a great contribution to the world of equipment. I love the fact that I can transport the bass without the bass bag on.

It's indeed very comfortable as well.

Andrew Miller
Canada


More reviews..