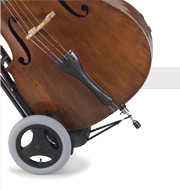 Dimensions
The outer dimensions of the Double Trolley show how compact it is. Transporting it in a car takes minimal space.

The seat measures 35 cm / 13.8" by 22 cm / 8.7" and has a 7 cm / 2.8" thick layer of foam.

The stool height goes from 61.5 cm / 24.2" to 94 cm / 37" in 2.5 cm / 1" increments (14 steps).

When the handle of the trolley is pulled up from the stool piece to the maximum height, the total height of the trolley is 102 cm / 40.2". The maximum distance between the two padded sections that support the shoulder and hip of the bass is 57.5 cm / 22.6".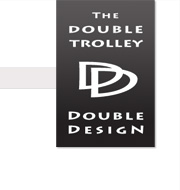 Since getting my Double Trolley I can get around with my bass much more independently. All my friends think it's really cool and the seat is really comfy too.

Alistair Westwood
National Children's Orchestra of Great Britain (Under 11s)


More reviews..