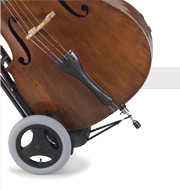 See how strong the stool is, or how the seat is built of two layers of foam.

The Double Trolley stool is designed by bass players for bass players.

The 2.8" / 7cm thick soft real leather seat guarantees a solid and comfortable support for any serious double bass playing.

The foot rest on top of the lower padded part gives you the opportunity to change position easily.


Adjusting the stool
Height:
The height of the stool is easily adjusted by squeezing the two taps with one hand until the seat is lifted to the desired height with the other hand.
Angle:
To adjust the angle of the seat the stool is tilted forwards and the plunger on the socket is pulled. The socket is slid to one of the four holes in the rear leg and the plunger released.

Range from floor to top of seat: 61.5 cm / 24.2" to 94 cm / 37" in steps of 2.5 cm / 1" (14 steps).
The position of the socket determines the angle of the seat with the top hole resulting in a horizontal seat. In the lowest hole the seat has an angle of 6 degrees.

Click on the pictures to get a close view.
The stool
When playing in an orchestra, every double bass player needs a stool - a good one! For a long rehearsal or concert, the generously padded ergonomically shaped seat of the Double Trolley gives you the support you need. The genuine leather cover ensures a maximum level of comfort.

With a quick grip you can easily adjust the height and angle of the stool to adapt it to your preferred sitting position at any time.

Thanks to special fittings and a solid height locking mechanism the Double Trolley makes no noises, which is essential during recording sessions.
Principal bass player Peter Prehn in the Odense Symphony Orchestra in Denmark on his Double Trolley stool during a rehearsal.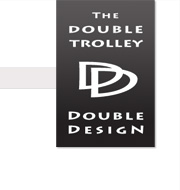 My Double Trolley arrived three days after I placed my order - great service!

I immediately took my bass for a walk through the cobblestone streets around my home, and the performance was very impressive - easy one-handed pushing and an amazingly smooth ride for the bass. Used as a stool, it's simply perfect.

David Moss
Germany


More reviews..